This recipe makes a lot of the lentils, you could add more squash or keep the leftovers and do something else with them, I had mine for lunch the next day! It could also be very easily made vegan by not using the butter!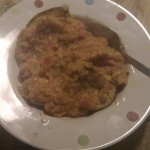 Ingredients
Olive oil
A little butter
Salt
Freshly ground black pepper
2 cloves of garlic, crushed through a press
1 large onion, diced
1 ½ tablespoons of curry powder (mild, hot, whatever you like) or garam masala
1 litre of vegetable stock
1 ½ cups of dried red split lentils, rinsed and drained
1 can of chopped tomatoes
1 large butternut squash
Method
Heat the oven to 180C (I've got a fan oven).
Peel and quarter the butternut squash.
Place in a baking dish and drizzle over a little olive oil.
Dot a little butter on the squash pieces and season with salt and pepper.
Roast in the oven for 45 minutes to an hour or until the squash is tender and has turned brown in places.
Whilst the squash is in the oven add a little olive oil to a pan and add the onion.
Sauté the onion for a few minutes over a medium heat and add the garlic.
Cook for a few minutes more and add the curry powder, stir to combine and add half of the vegetable stock.
Add the lentils, stir and cover.
Keep checking to make sure the lentils haven't taken on all of the stock, top up with some of the left over stock if needed.
When the lentils are almost cooked add the chopped tomatoes and stir to combine it all.
Your squash should be done by now! You did keep checking on it didn't you?
Transfer the squash to some bowls and spoon over the lovely hot spicy lentil mix.
Enjoy!