Coronation butter beans, a delicious Coronation Chicken alternative for vegetarians. Pretty damn tasty!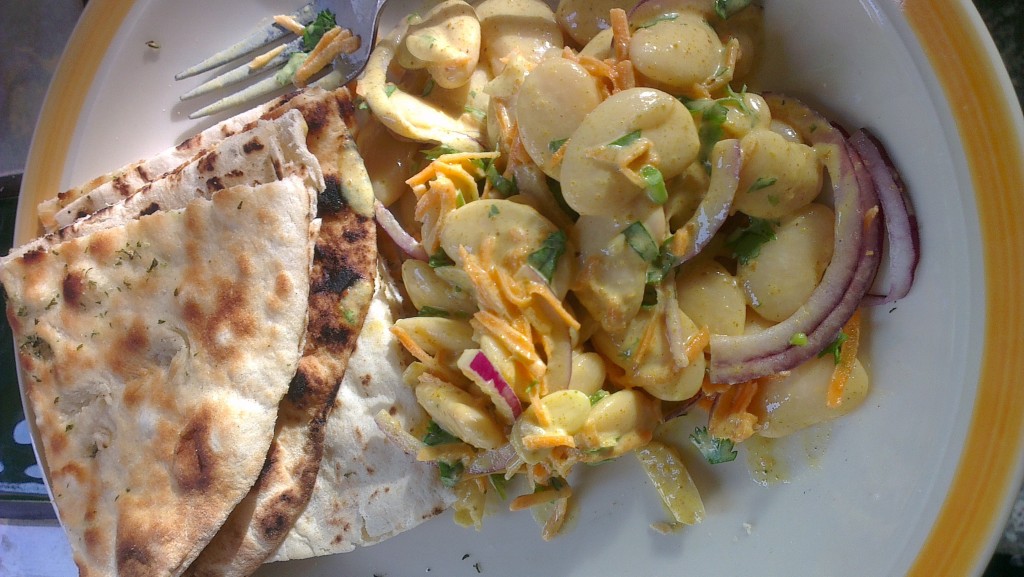 Ingredients – Makes about enough for 8 people to dip into at a party!
4 tins of good quality butter beans, drained
1 large tablespoon of mango chutney
2 large tablespoons of Greek yogurt
2 large tablespoons of good mayonnaise
1 large tablespoon of madras curry powder (hot)
A sprinkling of flaked almonds
1 large carrot, peeled and grated
1 small red onion, thinly sliced
A handful of chopped coriander
You might also want…
Flat bread, pitas or naan
Method
Place the mango chutney, Greek yogurt, mayonnaise and curry powder in a large bowl, mix until combined.
Taste the mix to see if it's to your liking, add a bit more curry powder if you like!
Add the butter beans and flaked almonds, stir until coated.
If you're ready to serve now, then carry on, if you've got a few hours, cover and place in the fridge for the flavours to get into the butter beans.
Transfer the mixture to a serving dish, sprinkle on the grated carrot, sliced red onion and grated coriander.
Serve with flat bread, pitas or naan!