Another stolen recipe which has been changed slightly. Originally by Rose Elliot this has tenderstem broccoli added to it and mushrooms taken away. I'm sure it would be just as nice with mushrooms, I didn't have any though! We had it on day 3 of Veggie August and it made more than enough for the two of us with leftovers for lunch the next day!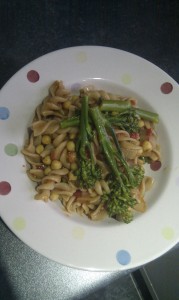 Ingredients – Makes enough for 4-6
Olive oil
1 onion, peeled and chopped
3 big cloves of garlic, crushed
1 tin of chickpeas, drained
1 tin of chopped tomatoes
1 vegetarian stock cube (I used a Knorr Stock Pot)
A glug of red wine vinegar
Freshly ground black pepper
1 teaspoon of sugar
200g of tenderstem broccoli
325g of wholewheat pasta
Method
Add a little olive oil to a pan and over a medium heat add the onion, fry for about 10 minutes but keep moving the onion, it just needs to be lightly browned.
Once the onion is almost done add the garlic and cook for another 2 minutes.
Add the chickpeas, tomatoes, stock cube, red wine vinegar, sugar and season with the black pepper, give it all a good stir and let it heat through.
Meanwhile add the pasta to a large pan of boiling water and cook for around 10 minutes.
Once you've got the pasta started add the broccoli to another pan of boiling water and cook for the last 6-8 minutes.
When the pasta and broccoli are cooked drain them both and add them to the tomato sauce.
Give it all a stir and serve!