I suppose it should be cannellini bean, artichoke, goat's cheese, red onion and tomato salad really but that was a bit too long!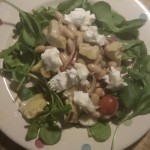 Ingredients – Serves 3

Olive oil
½ teaspoon of English mustard
A pinch of sugar
1 red onion, thinly sliced
200g cherry tomatoes, halved
150g chargrilled artichoke hearts cut into pieces
400g tin of cannellini beans. drained
Juice of half a lemon
Your favourite salad leaves (I used spinach, rocket and watercress)
Sea salt and freshly ground black pepper
150g of goat's cheese
Method
In large bowl whisk together 3 tablespoons of olive oil, the lemon juice, the English mustard, a pinch of sugar and some salt and pepper.
Add the red onion to the dressing along with the cannellini beans, artichoke hearts, cherry tomatoes and give it all a stir.
Serve on top of a large handful of salad leaves with a generous helping of crumbled goat's cheese.