Managing a large number of iPads can be frustrating, getting content onto them even more so. If you want to manage the applications available on the iPads, Apple Configurator is your man, if you want to manage the content on them you need to find another way to do it.
I was asked to load a self created iBook onto a number of iPads, helpfully the iBooks application doesn't support iTunes File Sharing, a system that lets you copy files between your computer and apps on iOS devices. Other Apple apps do support it, Pages, Keynote, but not iBooks.
So I thought another way to do it would be to put the iBooks file in Dropbox, download it from Dropbox on iPad 1, open it in iBooks, backup iPad 1 (that now has the iBook installed on it) and restore it to the other iPads that need the iBook on them.
Unfortunately, for reasons not know to me this doesn't work. The iBook appears in the iBooks application, but without the iBooks' cover art. Tapping on the icon starts something, but after a second the icon disappears and the bookshelf goes back to being empty.
I could have gone to each iPad and logged into Dropbox to get the file on each of them, but I was trying to keep the workflow short. The method I finally came up with, still involves some manual interaction, but cuts it down.
First of all I uploaded the .ibooks file to a public facing web server, when you link to files on Dropbox it doesn't just serve up the file immediately, you need to click on a download link first. Hosting the file on a normal web server gets rid of this step.
In Apple Configurator I created a new profile, in the profile I configured a new Web Clip, a Web Clip is just a link to a specific site or web page that creates an icon on the home screen.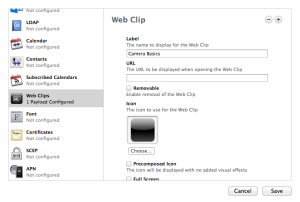 The title can be anything, the URL is the link to the file you uploaded earlier. I left all the other settings, hit Save and applied the profile to all the devices that needed the iBook.
On each device all I had to do was tap the new icon on the home screen, it opens Safari and navigates to my .ibooks file on the webserver, it gives the option of opening the file in the iBooks application and that's it, the iBook is saved to the application.
Once the iBook is on the device you'll want to remove the profile from the devices to remove the icon from the home screen.
Whilst it's more difficult to get iBooks content onto devices via Apple Configurator, Adobe Acrobat Reader does support iTunes File Sharing so you could drop PDF files onto the devices fairly easily but we specifically needed iBooks support.