Turns out we had some butternut squash and new potatoes that needed using up so I grabbed some spinach and threw some other stuff in a pan. It turned out nice!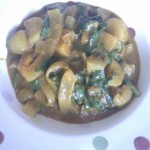 Ingredients – Makes enough for 3

1 tablespoon of good olive oil
1 organic butternut squash, peeled and diced
6 or so new potatoes, diced
1 onion, sliced
150g of organic spinach, roughly chopped
A tin of coconut milk, I used the "light" stuff
2-3 tablespoons of Madras curry paste
Method
The potatoes take a little bit of cooking so get a pan of water on the boil and add them to it. Parboil them for about 10 minutes.
Whilst the potatoes are boiling add the olive oil to a pan, add the onion and fry until soft, with any luck the potatoes will also be ready at this point.
Drain the potatoes and set aside.
Add the Madras paste to the onions and fry for a few minutes.
About now you might want to raid the freezer for some naan bread…
Add the coconut milk, give it all a good stir and add the potatoes and butternut squash. Give it about 10 minutes, stirring occasionally. Keep a lid on the pan so that it doesn't get too thick.
When the potatoes are cooked and before the squash starts to fall apart add the chopped spinach, stir through until it's wilted.
Serve in your favourite bowl!