You can have these with pretty much anything, or on their own the next day, if there's any left…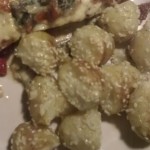 Ingredients
Olive oil
1KG potatoes, I used new potatoes
Sesame seeds
Sea salt
Method
Pre-heat the oven to 220C, a little lower for a fan assisted oven.
Bring a large pan of water to the boil.
Cut the potatoes into manageable sized chunks and add to the boiling water.
Par-boil for about 20 minutes, you don't want to cook them, just get them on their way.
Whilst the potatoes are cooking add a splash of olive oil to a baking tray and place in the oven to warm up.
Drain the water and with a lid on the pan give the potatoes a good shake the rough them up a bit, don't be too rough you want to keep them whole.
Add the potatoes to the baking tray and toss them around in the hot oil.
Add a good handful of sesame seeds, as much or as little as you want. Add a sprinkle of salt and give the potatoes a good stir so they're all covered.
Bake in the oven for 45 minutes to an hour, turning occasionally.