Quick and easy cheese and onion pie, it can be eaten hot or cold! Day 4 and 5 of Veggie August, we had it with Sesame potatoes!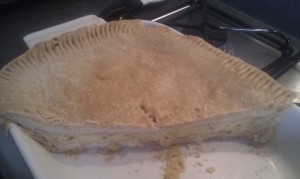 Ingredients
1 onion, peeled and chopped
500g of your favourite mature cheese, grated
1 large free range egg
2 x 450g bags of shortcrust pastry mix
Method
In a large bowl combine the grated cheese, the egg and the onion.
Make up the shortcrust pastry as instructed and roll out into two sheets large enough to cover the base of a dish and cover the pie.
Place a layer of pastry on the base of the dish, add the cheese, egg and onion mix and top with the other sheet of pastry.
With the tines of a fork press the edges of the pastry down, trim the edges with a knife and cut a hole in the middle of the top of the pastry.
Bake in an oven at 180C until the pastry is golden brown.