Well it could have been from Paris to Warsaw, it certainly didn't feel like it. At the beginning of 2011 I kind of made a resolution to cycle more, it all started in 2010 after getting a bike through the cycle2work scheme.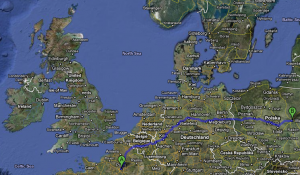 I'm lazy, very lazy, if I can do something without putting much effort in I will. Cycling seemed like the perfect thing to do coupled with the fact I could get a cheap bike through work. I could take it as easy as I wanted or push myself as hard as I could bother so that's what I started to do. I also wanted to not be as much of a fat bastard, I got married in the middle of 2010, I knew I was overweight but didn't do anything about it, when I saw our wedding pictures I realised that I was actually 18 stone and had to do something.
I started to ride on a weekend with my friend Dan Traynor, we rode from Nunthorpe to Guisborough and up through the forrest. We'd go up and over the moors or stay in the forrest and do some trails, 15-20 miles broke me into cycling gently. I started to ride to and from work occasionally, changed my diet and the excess weight started to come off.
I set myself a target of doing 1000 miles in 2011, it seemed easily reachable and I could spread it out over 12 months. At the time we lived 2.5 miles away from where I work, so 5 miles a day would take me to around 1000 and I could even have a few days off the bike if I wanted. My route took me down some quiet roads and through Middlesbrough's Albert Park, it was a nice way to start the day instead of being stuck in traffic, or if you look at it another way, being traffic.
In April we moved from Middlesbrough to Ingleby Barwick putting my daily ride up to 12 miles, 240 miles a month if I cycle every day. I started to think that 240 miles a month is almost a tank of petrol that was costing me close to £70, on top of that I was paying £20 a month to get access to a car park at work which I was using less and less.
Teesside University have done a lot to help the uptake of sustainable tansport with staff, as well as taking part in the cycle2work scheme they provide secure storage for bikes, lockers, showers and places to change. They've even had electric car charging points installed in their main carpark. Along with the Middlesbrough Cycle Centre that Middlesbrough Council run, Middlesbrough seems to now be very accessible to people wanting to arrive by alternative means.
So, I've done my 1000 miles, what do I do now? I could easily up the target, 2011 miles in 2011? I've lost almost 4 stone in weight, I'm very close to 14 stone.
I've met some good people on the way and changed the way I think about transport, food and life. I've taken some falls, I think I broke a rib or two but I'm a stubborn bastard and wouldn't get it seen to.
Gerry McBride who I stumbled upon on Twitter has set up Don't drive on the 5, a website to "encourage as many people as possible to leave their cars at home on the 5th day of each month, and consider using alternative means of transport to get about.".
Neal Harper who also works at Teesside University does the same as me and comes by bike, even after taking a fairly major fall and being out of action for a while. Gerry and Neal recently cycled coast to coast with some others, something I'd definitely think about doing now I know I've got the legs for it!
So far this year I've spent 80 hours cycling, burnt over 75000 calories and as Andrew Marsh nicely put it "climbed the equivalent of nearly 12 Empire State Buildings in elevation gain".